Hotspot (widget)
Hotspot widgets provide a quick, visual and intuitive feedback through the use of imagery. With hotspots, you choose an image over which you will place some markers. For each of these markers, you can select some parameters, whose values will be shown in small pop-up windows which appear over the very markers you put on the image.
Although a brief explanation has already been given in the tutorial section, here we will provide you with some details on how to configure hotspots as well.
---
Configuration
Title
Optional text which will be shown on top of the hotspot.
Image
Image that will act as a slate over which hotspots will be placed. By clicking on the CHOOSE button, you will be able to open a window in which you can select an image from the media gallery.
Popup
Configuration for marker pop-ups containing the values of the parameters which are monitored. You can choose between:
Opened: pop-ups will be always open as long as data is available
On mouse over: pop-ups will be shown only when hovering a hotspot
Remember to select one option between the two above. Otherwise, you will not be able to save the widget.
Pin default color
Color which will be used to draw hotspots. If you want to choose different colors for some hotspots, then you can do it in the configuration window which opens when clicking on a hotspot in this view.
Animated Pin?
On-off switch which enables a simple animation on hotspot widgets:
ON: hotspots will expand and shrink as time elapses
OFF: hotspots will stay still
Example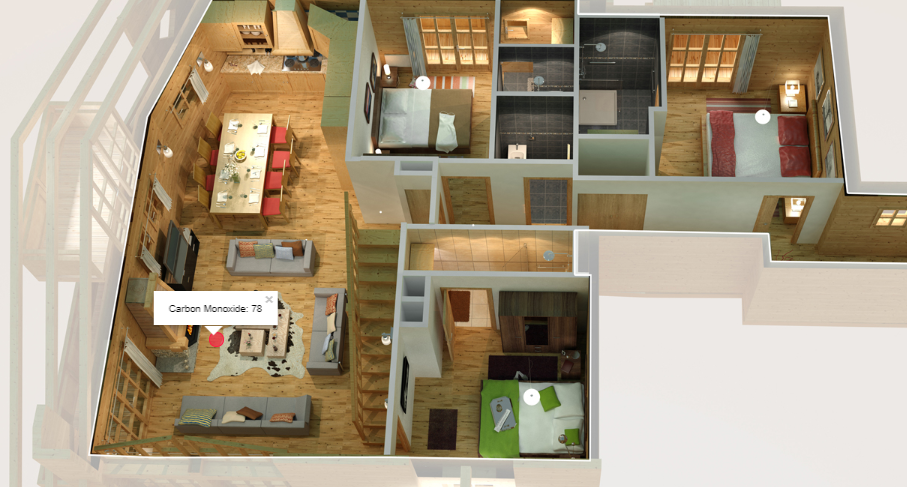 ---
Other widgets
For an exhaustive list of the widgets you can use in Omnyvore, please refer to the Available widgets subsection.