Alarms (widget)
Alarms widgets report the last alarms for the things the current user is allowed to see.
---
Configuration
Max number of alarms displayed
Number of alarms which will be at most displayed (e.g., if there are 6 alarms and this threshold is set to 20, all the 6 alarms will be shown).
Example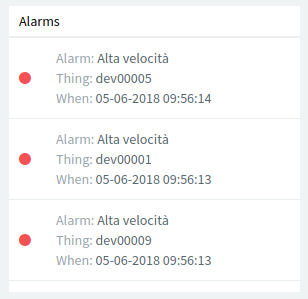 ---
Other widgets
For an exhaustive list of the widgets you can use in Omnyvore's main dashboards, please refer to the Available widgets subsection.